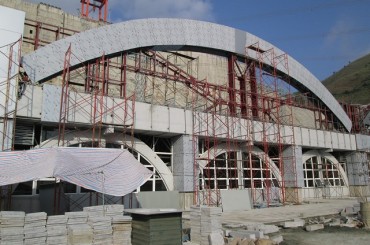 Located online at Pa Vinh, Son La province, between the rolling hills west of Tonkin, the national key projects in Son La hydropower plant is on track to complete urgently progress plans 2 years ago in May to 12 years 2012. Son La hydropower capacity of 2,400 MW with 6 units is the largest hydropower plant in Southeast Asia and is a key project of Vietnam. Featuring works this is not Vietnam because engineers design and construct the majority of materials used in the equipment works are also produced domestically. Plastic aluminum composite panels Alcorest is one of them.
To be selected as the material used for major projects such as Son La hydropower, aluminum composite panels Alcorest to pass the tests, strict quality survey of experts in order to ensure reliability as well as the technical requirements for size of the facility. Dated 16.08.2012, JSC Aluminum Vietnam Dung has officially become the supplier of Granite construction and decorating the entire building and operating platforms inside and outside decoration Son La hydropower plant with total area up to 8000 m2.
This event is a milestone in the journey striving to assert the message "Thirst Vietnamese quality" of the management and all staff of Vietnam Dung Aluminum JSC.
Plastic aluminum composite panels Alcorest again be woven shirts for projects such as the desire to strengthen quality and brand Vietnam, contributing to the overall development of the country.
Son La hydropower plant is the result of thousands of workers, engineers are hard at building and more than ever, Alcorest proud to join hands to contribute to the electric current of the motherland tomorrow.