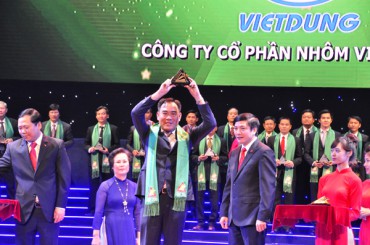 Morning Day 10/04/2015, at the National Convention Center - Hanoi, Central Union, the Vietnam Youth Union, Vietnam Young Entrepreneurs Association in collaboration with JSC Thanh Nien ceremony held Vietnam gold Star award 2015.
Awards ceremony with Deputy Prime Minister Nguyen Xuan Phuc; Standing Deputy Secretary of the Central Committee on Public Nguyen The Trung; First Secretary of the Central Committee Nguyen Dac Vinh Union leaders and representatives from several ministries, chairman of the National Assembly committees ...
Beat 3 rounds scientific poll, transparent, democratic and coherent, Aluminum Corporation Vietnam Dung brand presence in the typical 200 to receive Vietnam Gold Star Award 2015. This is the 2nd Public companies honored to receive this award
Mr. Bui Trong Dung, Chairman and General Director of JSC Aluminum Vietnam Dung said: "This is the second time Vietnam Dung Aluminum brand presence in the typical Vietnam Gold Star. Get this position, we must strive really because this is where the business awards for sustainable development to be achieved. Compared to last time, Aluminum Vietnam Dung has made changes in production scale, technology investments. This year, we invested to build more factories in the south to reduce the burden of transport costs and market expansion. Currently, Alcorest aluminum products were present in important projects such as Airport Terminal T2 all, Parliament ... Market was beyond Southeast Asia, exported to Europe ... "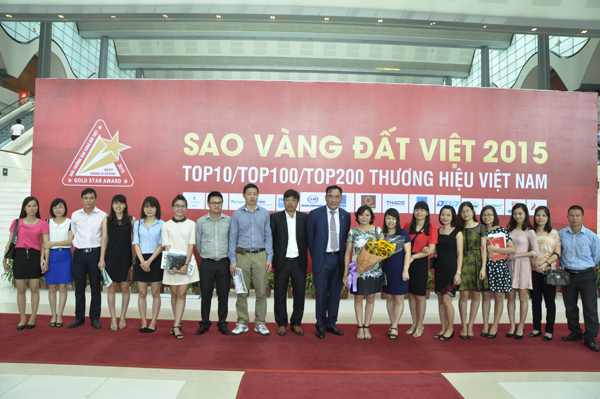 Company employees attended last gatecrash CEO
Vietnam Gold Star Award 2015 once again confirms the sustainable development, strong rise of the brand while contributing Alcorest extra motivation encourages company employees to strive and work harder for the common goal of the company.