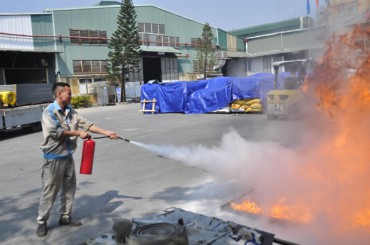 Fire protection is a very important task to protect the lives and assets of human health. Recognizing this, the annual JSC Vietnam Dung Aluminum organizations are creating conditions for fire fighting training sessions for staff in the company in order to raise awareness of the role and responsibilities of each staff PCCC.
Dated 24.10.2015, the company commander of the Fire Protection in collaboration with the Police Department Fire Protection No. 6 North Thang Long - Hanoi Police fire protection training, professional training and fire practice fire fighting plans of the company plant.
At the training sessions, participants conveyed basic knowledge about fire protection, the legal documents on fire fighting; the cause of the fire; some fire safety measures at the company and the family; instructor for the employees to use the means fire in place, the skills, how to handle situations when the incident fire, escape skills, fire fighting measures
After the lectures, with the help of the Fire Protection Officer team, employees in the Company has been practiced using fire-fighting means: average powder, average CO2, to extinguish the fire and how to handle fast situations that may occur.